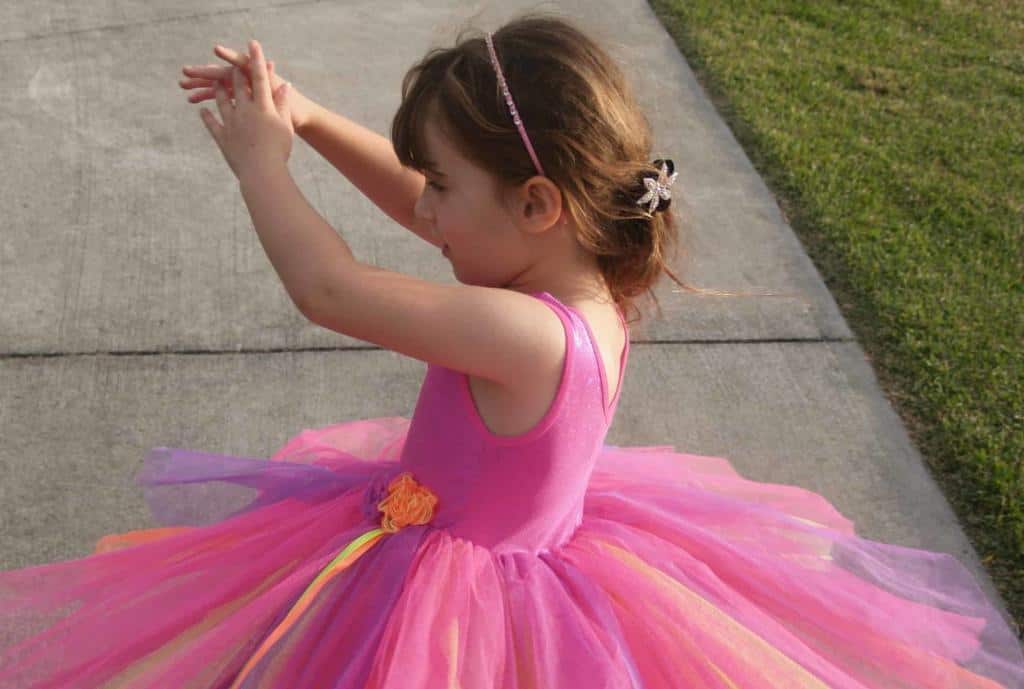 Princess Play? No Way!
I had what I assumed were the best feminist intentions when my daughter was born. She was not going to be one of those girls who danced instead of playing hockey, played with dolls instead of building race tracks. Heaven forbid if she chose glittery nail polish over some kind of sportsball when I let her pick out a treat at Target. No, my daughter was going to be more like her brothers than a sequin-sporting Disney addict. She'd be a rough and tumble girl who could hold her own anything—her own door, her own place in a conversation, her own seat at any table where people were talking about big ideas—you get the idea.
But It's So Cute!!
And then, one day, I took a walk through Baby Gap, venturing to the other side of the store, the side where, as a mom of three boys, I never before set foot. I bought one pink-and-white-striped sweater onesie which, in retrospect, turned out to be a gateway drug to a house covered in pink ruffled beribboned sparkly EVERYTHING. Before I knew it, I was posting hilarious pictures on Facebook of a wrinkly infant tipping over sideways from the weight of the giant bow on top of her fluffy little straggly hair. And now? She has an Elsa castle almost as tall as I am in her bedroom and goes to four dance classes a week.
Judging Princess Play Is Harmful
You know what, though? All of the fuzzy detritus of girl life—the frilly dresses with crinolines underneath them and the magic wands with streamers and the stuffed unicorn heads on her walls—is OK. I realized pretty quickly into mothering my fourth baby that the idea that only "boy stuff" is cool is a pretty damaging one.
As feminist theorist bell hooks explains in Feminism Is for Everybody, "Feminism is a movement to end sexism, sexist exploitation, and oppression." Feminism teaches us, as the pink and green cross-stitch sampler on my daughter's wall contends, to "crush the patriarchy." One of the first ways we can all do that is by refusing to devalue traditionally feminine things. Just because it's pink doesn't mean it's terrible. Pink is, after all, my favorite power color.
Princess Play Is Both Girlie and Powerful
Fortunately, pop culture is smarter than I am (I mean, duh), and strong heroines abound. Elsa and Anna don't fall for prince charming. Instead, they literally freeze the patriarchy in its tracks and prove that sisterhood is powerful. Pinkalicious, star of the eponymous books, is smart, funny, spirited, and a lover of all things sparkly. Ditto for Fancy Nancy. And what about fearless Moana and Coraline, the creator of her own story? By dismissing these characters because they're super girlie, we are buying into the idea that girl culture isn't mainstream, and that boy culture is.
It's like what feminist pop culture icon Madonna (no, for serious) said in her 2009 song "What It Feels Like for a Girl": "For a boy to look like a girl is degrading/'Cause you think that being a girl is degrading." We have come a long way in the last decade in championing the end of "boys' toys" and "girls' toys." But why is it our boys can play with traditionally feminine toys but our girls can't? A boy with an American Girl doll sends a progressive message about his parents; a girl with one, well, that's a stereotype.
The Key Is To Have The Talk…
The key, I think, is to interrogate gender stereotypes with your kids. Like, when you watch The Incredibles 2, ask them why Mrs. Incredible feels so guilty going to work, and if they have ever seen dads in movies think this way. Or when you watch Alexander and the Terrible, Horrible, No Good, Very Bad Day, point out the conflict Mr. Cooper feels when he loses his job.
Ask them to think about all the movies and shows they see where the mom stays home. Is her presence with the kids a plot point? Why or why not? Draw their attention to Anna and Elsa wearing pants in the new Frozen and ask them to think about the kinds of clothes that feel good on their bodies and help them run fast. Talk to your kids about what their happily ever afters are going to look like someday, and really listen to what they say, so you can help them unpack it.
So Let Them Wear Tutus
The problem is not, of course, that pink princesses and tutus are bad for girls. The problem is that our culture looks down on traditionally feminine hobbies and artifacts. It assumes that clothes/toys/activities for girls are for girls without woke parents, or for boys to experiment with as a lark, while "boy stuff" is for all of us. It's easy to pay lip service to the idea that there are no boy toys and girl toys, but it's harder, I think, to let our girls do the things culture says they should want to. We feel like we're not thinking critically, that we're not preparing our girls of a lifetime of leadership, that we're treating them like "just" girls.
I am not saying that we should uncritically accept a culture that judges our girls on looks first and everything else second. I am not saying that we should mind a gender binary or continue to label things as girl stuff/toys/activities and boy stuff/toys/activities. I am just saying that rejecting princess play culture because it's girl culture implies that boy culture is better; that to be equal, we all have to be like men. It's pretty easy to see that hegemonic definitions of masculinity are as toxic as princess culture.
Next time you see a little boy with a doll in his arms, tell him what a good dad he is. Next time you see a little girl in a (probably pink, let's face it) leotard, tell her how strong she is. And next time you hold your own daughter back from princess culture because you are worried that girlie stuff is silly, take a minute… And think about whether these actions help end sexism or perpetuate it??
---
Before you go, check out some of our previous posts!