What Is Play-Based Learning?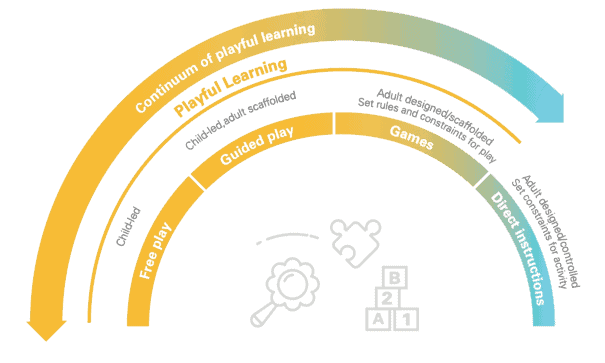 Source: https://www.unicef.org/sites/default/files/2018-12/UNICEF-Lego-Foundation-Learning-through-Play.pdf. Adapted from Zosh, Jennifer N., et al. Learning through play: a review of the evidence. LEGO Foundation, 2017.
At Orchard Ridge Nursery School, you'll hear us mention our play-based learning curriculum. But what does this mean in practice?
First and foremost, children need to feel like they have control over their play. They need to feel like they are involved in what activities they choose. This is why all our teachers take the interest of their students in mind when organizing their daily routines.
But beyond that, play-based learning has the following things in common:
Play helps children make sense of the world around them. It also helps children solve problems in imaginative and playful ways.
Here are some examples in which a play-based curriculum is meaningful:
It expands a child's ability to retain information
It helps a child learn how to strategize (learn how to plan, implement the plan, and change the plan if necessary)
It helps a child learn perspective-taking skills
It expands a child's ability to follow instructions
Play should be a pleasant experience. It should motivate the children to want to keep on playing.
3. Play is Actively Engaging
Play should be something that engages the physical, mental, and verbal skills of the child.
Play should allow children to practice new and old skills as many times as needed.
5. Play is Socially Interactive
Play should allow children to practice interpersonal communication. It should enable them to communicate their ideas and learn how to understand the views of others.
Tips For Finding A School
Here are some useful tips for finding a quality play-based preschool:
It will have both indoor and outdoor play
It will integrate the child's natural interests into the daily routines
It will have a variety of play spaces within the room
It will allow the children time to have a choice over what to play with during the day
It will allow children the ability to play for long periods without interruption
It will allow children to play both with others and by themselves
Admissions Info
Click here to learn more about enrolling at Orchard Ridge Nursery School.
COVID Safety Plan
Click here to see how ORNS keeps your child safe during this time of COVID.
Calendars
Click here to view the academic, snack, and event calendars.
The Owl-a-Gram
Click here to learn about a variety of things related to ORNS. You'll find our monthly newsletters, helpful tips to make your preschool experience better, as well as general announcements.
Events
Click here to learn about the annual events at ORNS each year.