Take a Virtual Tour
Walk through the hallways and classrooms with Miss Liz, our executive director, and see what ORNS has to offer you and your family!
Meet Miss Jane and take a tour the
Red Room
. Learn about all the fun things she has in store for you and your classmates this upcoming year.
Meet Miss Lana, from the
Purple Room
, as she walks you through an action-packed day in her room. See if you can find the thing in her room that changes all the time!
When you're done with Miss Lana, head into the Green Room and meet Miss Katie. She's really excited to meet you. You'll have so much fun playing with her. And did you know that she likes hot dogs? She especially likes them with pickles and mustard. Do you like hot dogs too?
Last, but not least, let's head to the Blue Room. This room is extra special because we happen to have two 3K teachers who take turns (like all good preschool teachers do) teaching their classes. Miss Meghan is our 2 day AM teacher, and Miss Katy is our 3 day AM teacher. Get excited because they have some special things in store for you!
Wow! You're getting pretty old! Can you believe you're ready for 4K now? Since you're so big, let's see what Miss Brie and Miss Krista in the Yellow Room have in store for your final year with us at ORNS. Do you know what choice chart activity you want to start with first?
After chatting with Miss Brie and Miss Krista, go next door to the Blue Room and meet Miss Amy. She's super excited to meet you and show you around. Do you love to read? Well, you're in luck. Miss Amy has the best books! Include the always hilarious Chicka Chicka Boom Boom. Do you think there will be enough room? You'll have to read the book and find out!
Do you want to know something super fun? If you have Miss Kennedy as your 4K teacher in the Orange Room you'll get to spend your whole day with her and the rest of your classmates! How fun is that?? Miss Kennedy has energy to spare, so no worries if you've never done a full day of preschool before. She'll help you through it. You've got this!
I heard you're going to be an Explorer! How cool! I know that you'll have a ton of fun with her and the rest of your Afternoon Explorers. So why don't you make yourself comfy on your relaxation mat and let Miss Carol give you a tour of the room. And did you know you might even get a second snack time during explorers?? Do you remember where she said she'd meet you when it's time to go to the explorer's classroom?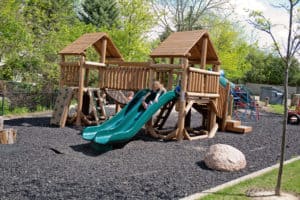 Mon–Fri: 7:45a – 5p
Weekends: Closed